BOARDING
Boarding kennel has just been newly renovated.
Bonnieview Kennels offers boarding in a clean and well kept kennel. The boarding kennel has 13 very spacious indoor runs and each run has its own doggie-door to an outside cement run that is 6'wide by 16'long. There is also an exercise yard that is 40'x60'.The flooring inside is also cement with a 4'x3' Kuranda dog bed in each run.
The building is climate controlled with air conditioning available in hot humid summer weather and a propane furnace for the cold winter months.

I always encourage owners to bring bedding so that their pooch can feel more at home and the runs are big enough to accommodate a wee crate or two for smaller dogs. Soft music is usually on to help the boarders feel more at home. The flooring is sanitized daily to maintain a clean and safe environment for my furry guests.
Boarding dogs have ample playtime with other dogs, with the owners permission of course, and great care is taken to ensure that the dogs are compatible with each other.

I ask that owners please bring their own food for doggy so as not to cause undue stress with change of diet.
If dogs are coming from the same home I encourage that they be boarded together to keep them as comfortable as possible. For that reason I offer a reduced price for dogs who can stay together in the same run.
I also provide personal one-on-one care to dogs that have special issues such as medical needs, special diets and/or who just may be having a difficult time adjusting to being away from their family. I have spent many at time just sitting on the floor soothing a scared and apprehensive pooch. That often works miracles in settling them down.
All animals need to have proof of vaccination please.

All boarding dogs get "milk and cookies" before bedtime.
(well, at least a cookie)

Clients are asked to sign a boarding agreement prior to leaving their animal.


BOARDING FEES ARE AS FOLLOWS
FOR 24 HOUR PERIOD OR PART THEREOF:

ONE DOG-$30.00/DAY
TWO DOGS(in 1 run)-$50.00/DAY
THREE DOGS(in 1 run)-$75.00/day
plus
$15.00 for each additional dog if more than three
Please note:
There are no drop offs or pick ups on Sundays
as we are closed
*We offer a 10% Senior discount*
Special rates for boarding by the month
is offered but not on w/e dates that involve stat holidays or during Summer holiday months
(June, July & August)

Please note
USUAL BUSINESS HOURS
FOR BOARDING ARE:
9-11 am and 3-5 pm
Monday to Saturday
Closed Sunday
Open all holidays except Christmas Day
RELEASE OF RESPONSIBLILIY
Bonnieview Kennels will not be held responsible for any loss of property (including animal), or for the contracting of any disease/injury while on these premises.
Due care will be given to prevent either occurrence.
Boarding animal will not be released until payment is given in full.
Acceptance of above terms is given by agreeing to board at Bonnieview Kennels.

Thank you
__________
A lot of my fencing has been supplied by Quick Fence
I have found this company excellent to deal with and their prices are the best that I've come across as of yet
I highly recommend them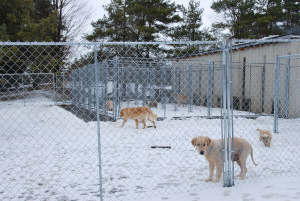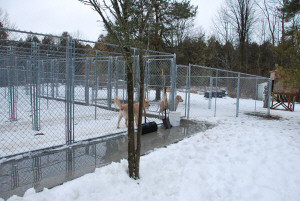 The boarding kennel has just been newly renovated
and is now ready for boarders
See pics below