Here are my Goldens
Past and Present
_______________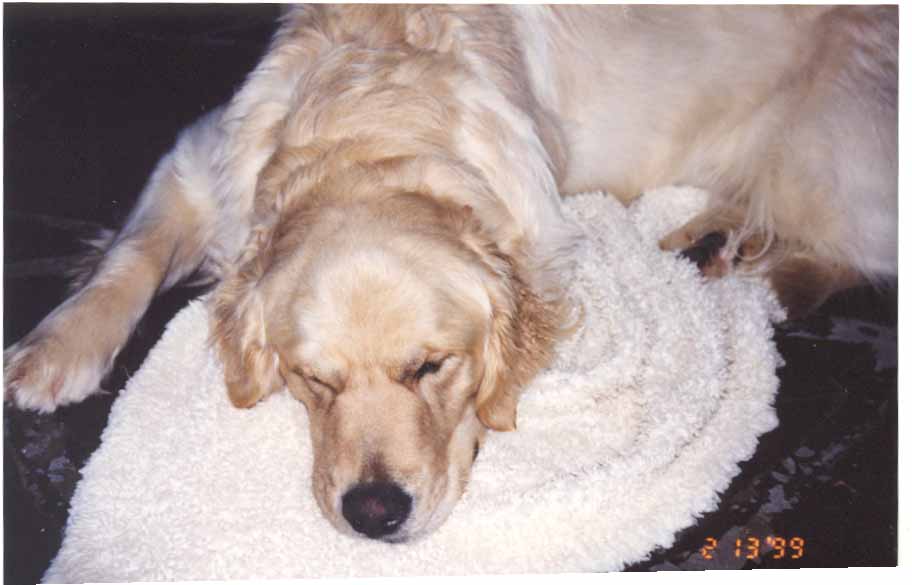 Benjamin Xavier
"Ben"
He started it all
A most wonderful animal
Pictured here laying on his favorite blankie that I still have
He passed away October 2, 2000
Still sadly missed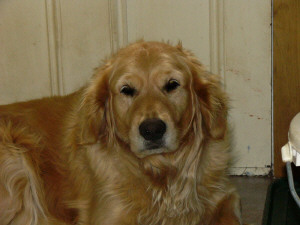 Bonnie Lass
"Bon Bon"
She was our first female Golden
Had some American Golden in her line
She had the largest puppies ever and every one a gem
Retired now living with a loving family and now she has her very own kids
This one was hard to let go of
(Added note)
Bon Bon passed away in 2011
at the age of 15 years
Beautie Blue
"The Beut"
Second female we purchased and
is the sister of Breeze
She was the smartest dog I've ever owned and was Don's Beautie
She passed away this past July 2012
at the ripe old age of 14 1/2 years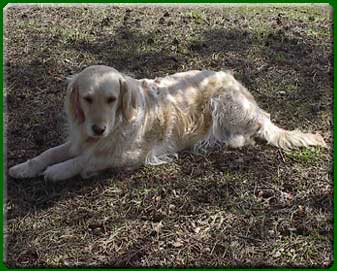 Here is another favorite picture of
My Beautie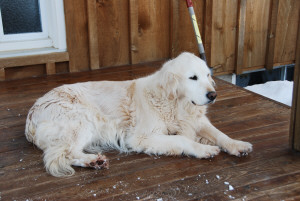 Sea Breeze
"Breezie"
Sister of Beautie
She was the only Golden I had that was fearful of
thunder and loud noises
I kept many female puppies from both her and her sister Beautie
as they produced excellent off springs
Passed away December 2012
at the age of almost 14 and a half years
Bell Star & Puppies
Daughter of Breeze
She was a dotting mother and extremely laid back like her mom
Bell passed away a few years ago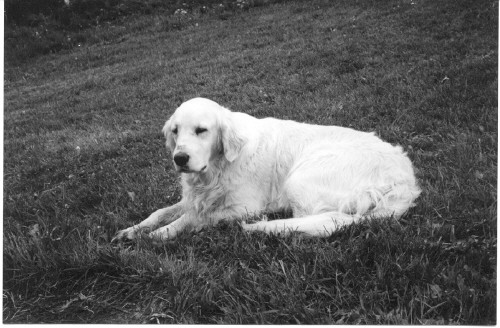 Blizzard Storm
"Bliz"
Sister of Bell
She was our couch-potato and never got too excited about anything except food
She passed away a few years ago also
at the age of 11 years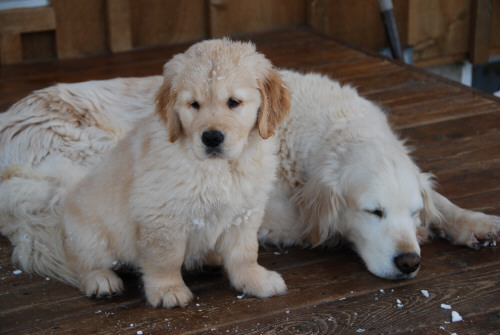 Bert & Breeze
Bert was my new upcoming male
Here he is at three months of age
There is a more recent picture of him below
He is a lover but can be mischievous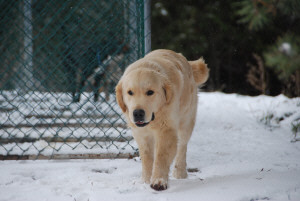 Bert
"Bertie"
He is 11 month old in this picture
Benji McBain
"Benj"
This was our second male
who passed away at the age of 10 years
Very loving and trusting
This was his favorite chair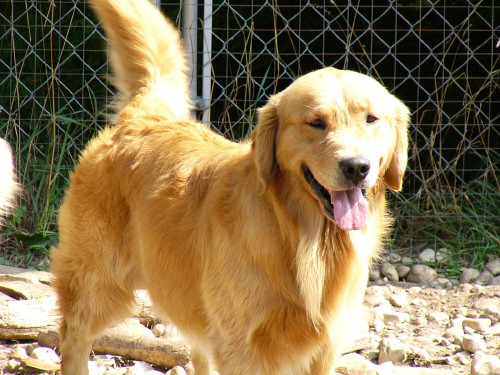 Bear
(Registered name is Woolly Bully)
My gentle giant who produced puppies till the age of 8 years
This picture doesn't do justice to the size of his head which is massive
He's somewhat of a kleptomaniac and I've lost many shoes and some tools that are now in the bush somewhere
He is living out his retirement at Bonnieview
but I haven't had the heart to tell him that he is no longer
"the man"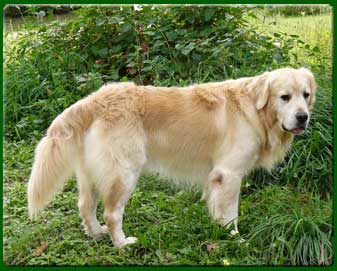 Blaze
The son of Breeze who passed away Summer of 2009 from an unfortunate accident
One of the most gentle animals I've known
Still sadly missed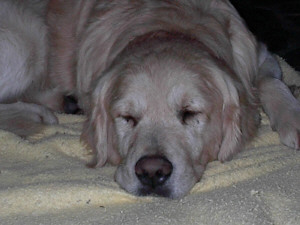 This is my favorite picture
of Blaze
Little Bro
"Brozo"
Son of Blaze
Wonderful pet and breeding male
who passed away unexpectedly January of 2010
I have kept three of his female puppies for breeding
He was my soul-mate
Greatly missed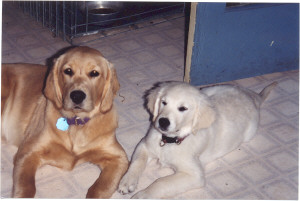 Precious Bijou
Shown here on the left
She is the sister of Bear and the mother of Bro
and was quite young in this picture
Her coat was like velvet and she had an awesome personality
She retired to a great home in Sudbury (my home town)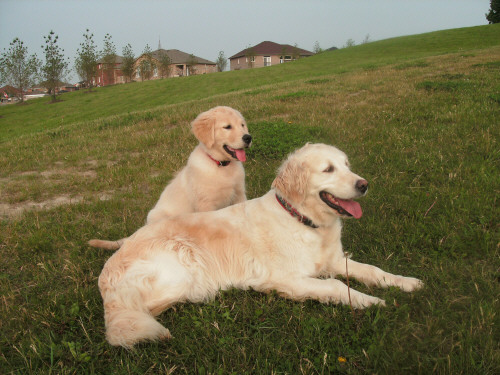 Golden Brinks
"Brinksy"
Daughter of Sea Breeze and Benji
Another gentle and easy going Golden
Retired with her last male puppy Kalahari (shown here) to a lady named Gillian Feaver.
Gillian says that the puppy is great, however, it's Brinks who is the talk of the neighborhood
They have totally spoiled her with my blessings
You deserve it Brinksy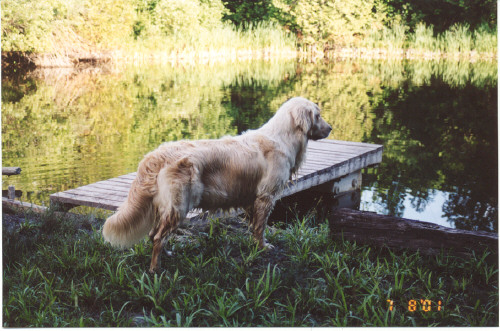 Bria Star
Niece of Beautie and Breeze
This Golden absolutely loved the water
Here she is overlooking our pond ready to take the plunge off of our dock
She was a natural retriever without any formal training
On command she would gather all the sticks that were left floating by the other dogs
Retired now and with a great family
Bonnie Lady
I know this is confusing because we already
had a "Bonnie" prior to this girl
She was one of our puppies that was returned because of a marriage break-up and we did not name her
We liked her so much that we kept her and she had some puppies for us
In this picture she was expecting a litter
She passed away a few years ago
Brandy
(Registered name is Murphy Hillsview)
Daughter of Betha Lee and Benji
Returned by owners as they were not ready for a puppy
We decided to keep her so that she would not be bounced around any further
Also she had great confirmation
Shown here with her nine pups
Also a dotting momma
Retired now and living with a family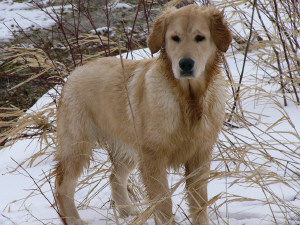 Brassy Lady
Daughter of Tammy
Very much lived up to her name and full of mischief
Retired to a family who have another of our Golden boys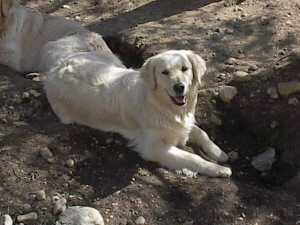 Blissful Spring
Daughter of Sea Breeze and Benji
Produced some totally awesome puppies for us
Retired with a loving family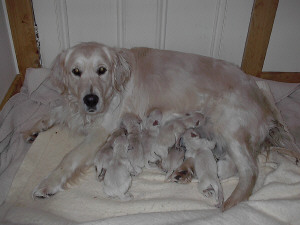 Wild Buttercup
Daughter of Bell and Benji
There was nothing wild about her
She was dainty and beautiful like a wild flower and
produced many puppies of the same demeanor
Spring Blossom
Daughter of Beautie Blue & Benji McBain
One of the most nurturing mothers that I have ever owned
Also one of the most accident prone Goldens
She has been skunked, quilled, hit by a car and shot
Thank God the buckshot did not hit anything vital
She has survived to retirement and now lives with an elderly couple to a more sedate life (I hope!)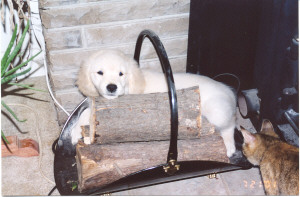 I love this shot of Blossom
at 7 weeks of age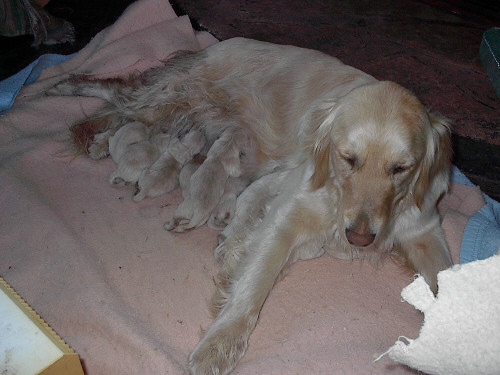 Blitzen Noel & puppies
Sister of Blossom
Here she was in the process of having her pups and ended up with 13
She was some tuckered out
Retired and living with a great couple that have another of my former puppies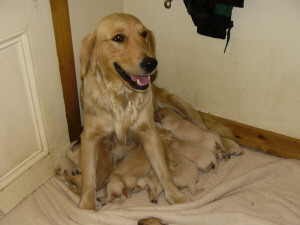 Missing Buttons
Daughter of Benji and Bria
Had eleven puppies in this litter and every one a plunker
Retired and with a family
Christmas Bonus
"Bones"
Odd name I know but she was born just before Christmas
so she was our Christmas bonus
She is the daughter of Broomer
A very quiet and reserved Golden and very loving but not pushy
I hardly know she's around most of the time
She often will give you a half smirk as seen below
She is now retired and living at Bonnieview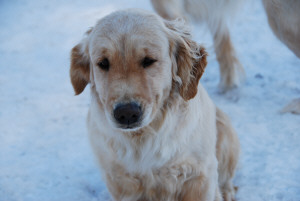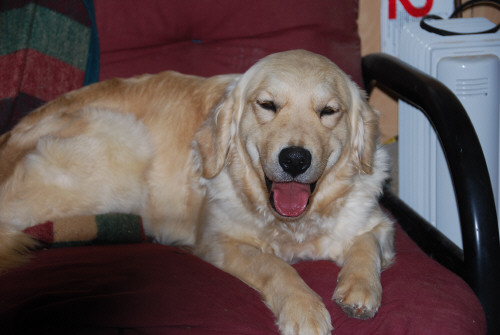 Bobbie Magee
Daughter of Blossom and Bear
A bit on the bossy side with the other Goldens but smiles at any human who will give her some attention
She has produced two stunning litters so far
She is presently in a loving foster home
and will give me a few more litters
(I hope)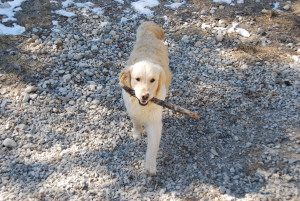 Little Bits
"Bitsy"
Sister of Bobbie and totally opposite in character
She was very tiny as a pup (hence the name) but is now 58 lbs
She has had stunning puppies
Now retired and living with one of her puppies in a great home
S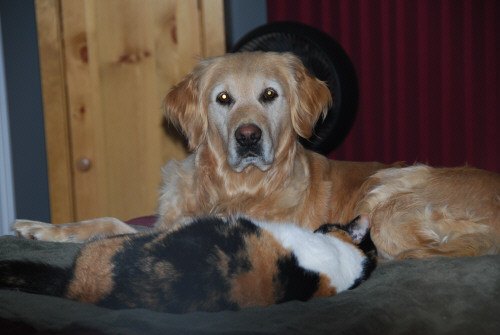 Spring Breath and Bobbie Socks
Acquired outside female
Breath sleeps on my bed and loves to cuddle
She and Bobbie Socks (the cat) are great buds
She is retired now and will live out her life at Bonnieview
Blondie
An acquired outside female that is closely related to my original line
She is a handsome female and has produced outstanding litters from which I have kept a number of females
She is in now retired and in a loving family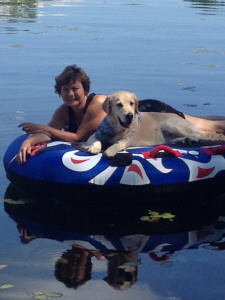 Here is Blondie enjoying the good life
with her new master Joanne
Beulah Land
Daughter of Bro and Blondie
She looks a lot like her daddy and has his temperament
She has had awesome looking litters
She is in a foster home and will hopefully
produce two more litters before she retires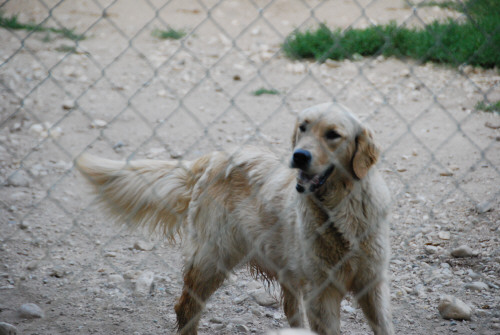 Our Miss Brooks
Sister of Beulah
She just had her first litter and is doing well
Also great looking puppies
I am looking for a foster home for her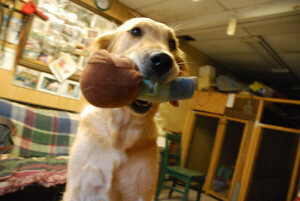 Another acquired outside female
Very lovable and playful and loves to retrieve sticks
Recently had a litter of medium colored pups
She absolutely adores her puppies
Goldens are such good mothers
She has just had her last litter(December 2012) and will be retired
I am looking for a home for her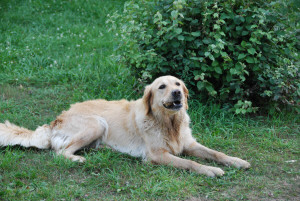 Golly Miss Molly
Molly is a rescue Golden that I took in
Here she is having a good chew on who knows what
Her largest litter was 13 puppies and all were huge and healthy
Her coat feels like silk
She always looked forward to my left-over coffee and would beg me until I would relinquish it to her
She has produced some awesome Doodles and always had large litters
Retired now and living at Bonnieview
Tammy Sunshine
"Tam Tam"
Tammy was one of few outside females purchased
Only Golden I owned that will hunt and kill groundhogs and she has the scars to prove it
Retired now and living at Bonnieview
Bobbie Socks (the cat) loves my Goldens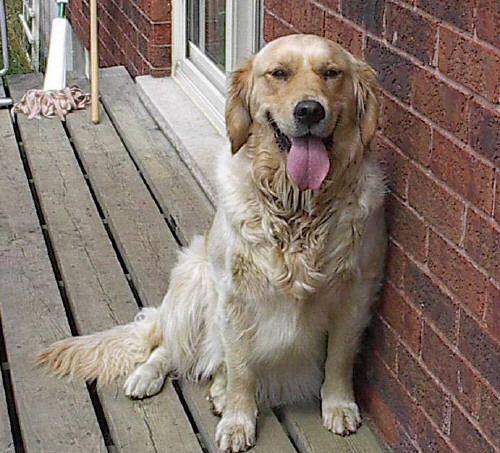 Betha Lee
Daughter of Bonnie Lass and Benjamin Xavier
Beth has a smile a mile wide
Retired and living with a family
Blue
She is the sister of Butters
She is pictured here with her first litter
and did very well as a new mom
Now she is retired and living with a family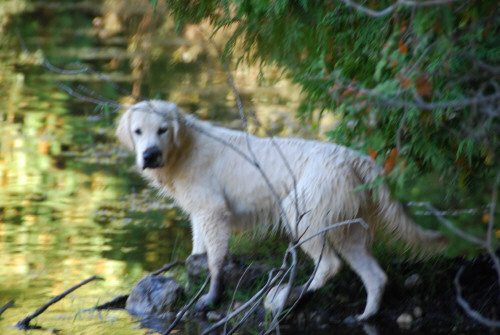 Butter Ball
"Butters"
Upcoming female that I kept from Bro's last litter
Nothing wrong with her nose; just muddied
She has had some great looking puppies so far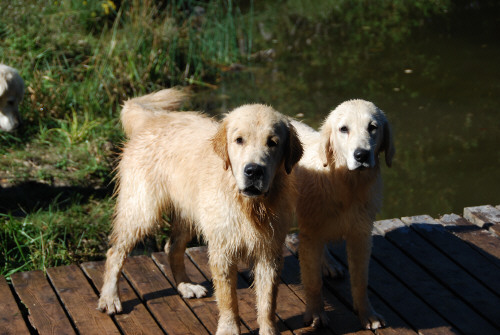 Bertie & Butters
Bert was 9 months old here and butters was 8 months
These two are great buds
He's the only golden I've seen who can dive off of the dock in slow motion
Really a site to see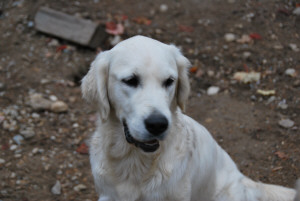 No Bones About it
"Bones"
A female that I have purchased
Talkative but very loving
I will be breeding her with an outside male so that I can keep some females back for future breeding with Bert
Very good looking girl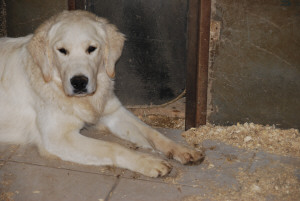 Notsotiny Bubbles
"Bubbles"
One of Bert and Blondies' puppies that I kept
Looks very much like her dad
Good disposition but very exuberant when she plays with Bones
They are best budds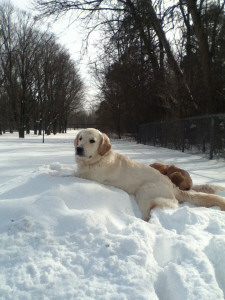 Beautiful Bella
Daughter of Bert and Bobbie Magee
She is 11 months old in this picture
She is in a foster home and hopefully
will produce many wonderful puppies
Below is Bella incognito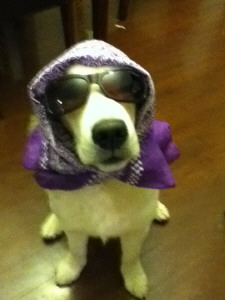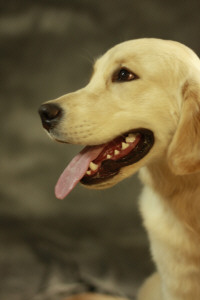 Bonnieview's Lacey Mills
Lacey is one of my Foster dogs
Very good looking girl but was
quite a rambunctious puppy which was a learned behaviour
However, she has settled down with maturity and
good efforts from her Foster mom
Looking forward to her first litter in May of 2014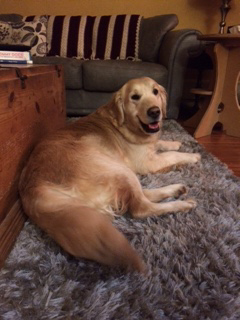 Lazy Golden Maija
Maija is with a foster family and is the
daughter of Bert
She was payment for an outside breeding
and was named before I got her
I like her coloring and she has a sweet temperament
Her puppies will have more color as well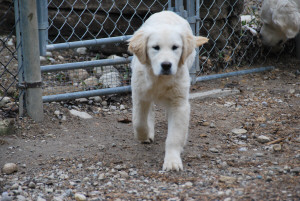 Bonnieview's December
Bonus
Bonus is the daughter of "No Bones About it"
and is a real sweet Golden
Very playful and very smart
Below is a picture of Bonus full grown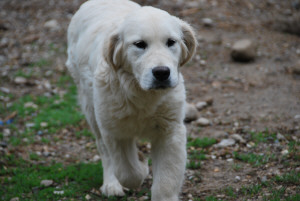 Bonnieview's Iddy Biddy
The next two puppies (Biddy and Bree) were obtained from an outside breeding that my Bert sired
They are just over a year of age now and both are in foster homes.
Hopefully will have their first litter by Fall of 2016
Biddy is full of life and seemed to be the leader of this duo
Here she is at 3 months of age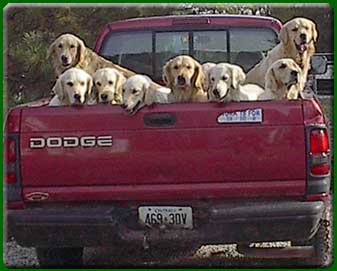 The Dodge Bunch
I took this bunch through Tim Hortons' for timbits after our walk in the woods one day
It was quite a sight and created lots of attention
Shortly after this outing, Timys' stopped handing out free timbits
Wonder if we had something to do with that decision
I'll never know
From Lt to Rt:
Benji (on wheel well), Breeze, Beautie, Blossom, Bonnie Lass, Brandy (can barley see her head), Bonnie Lady, Bria and Blaze (on the other wheel well)
These were our first Goldens
and we cherished each one
Note:
These are pretty well all my kids past and present
Will be adding more of my Goldens as I acquire them