I have always been a fan of the Blue Merle Australian Shepherd but, knowing they are a much more active dog than the Golden Retriever, I was reluctant to breed them. They require a certain type of owner who is dedicated to working with them and take the time to give them lots of exercise. As a herding dog they do best when given that type of opportunity.
One day, as I was browsing the internet, I came across a mix breed called the Aussiedoodle. The puppies looked gorgeous and caught my attention immediately. Having already an awesome Standard Poodle (Buzz) and having great success with his offspring's of Goldendoodles, I decided to try some litters of Aussiedoodles. So my research started for the right Australian Shepherd. I needed to learn more about this breed and the more I learned the better I liked what I heard and read. I finally found a sweet and gentle Blue Merle Australian Shepherd puppy, CKC registered and in excellent health. Called her a real original name...Aussie. Go figure.
Took some getting use to her higher level of energy but I soon became enamored with her. Personally I did not find my Australian Shepherd hard to raise.
She produced a stunning litter of eight Aussiedoodles in her first litter. Three Merle's, one almost solid chocolate and four blacks. Their coats were soft like velvet and had a luster that I have not seen before in other puppies. They are gentle, laid back and very smart with almost negligible shedding. About four of the puppies picked up their mother's blue eyes and look very striking against their darker coats. There was only one lone boy with seven girls. He managed to survive his sisters and is in a wonderful home. All the rest of the puppies have been sold.
Below are pictures of them so that one can see what they looked like as newborns. There are additional pictures that have been sent in by their new owners under the tab "Prior Aussiedoods".
I will be having other litters
from her I'm sure. She is an awesome mom.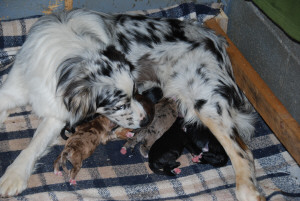 This is Aussie with her newborn's