In the past few years I've been raising Goldendoodles and Aussiedoodles and have become quite enamored with the Standard Poodle. The temperament of the Standard is so different than that of the Toy or Miniature Poodles. The smaller Poodles tend to be quite yappy and excitable whereas the Standard's demeanor is very laid back and gentle. My one and only male Poodle, Buzz, is getting up in age and I have been trying to find another male Poodle to take his place. I couldn't find one that came even close to my Buzz so I decided to purchase a few female Standard Poodles instead, with the hope of breeding them with my Buzz and keeping back a few male offspring's. Buzz has such an awesome temperament and is a well put together male so getting my male this way will allow me to continue with his line.
I found two great looking female Standard Poodles to purchase from a very reputable breeder. They are sisters and have excellent temperaments and were very gentle and laid back puppies. They have produced their first litter of puppies with Buzz and I am amazed at the quality and temperament of these puppies. I have kept two males for future breeding, Percy and Poken.
HEIGHT CHART FOR
STANDARD POODLES
8 WEEKS_____________12-13 INCHES
3 MONTHS____________14 INCHES
4 MONTHS____________18-19 INCHES
6 MONTHS____________21 INCHES
FULL GROWN___________24-27 INCHES
(USUALLY 24 MONTHS)
Standard poodles can take up to 24 months
to finish growing and filling out.
Below are my two
Mama Poodles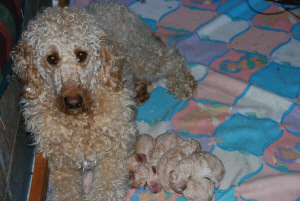 Woodworks Precious Priscilla
"Prissy"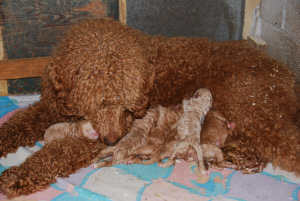 Woodworks Penny Red
"Henny Penny"
Below are my
two present Sires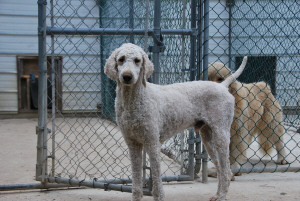 Bonnieview's Percival Bain
"Percy"
He is a cream Standard Poodle registered
with CKC and has genetic clearance
Excellent temperament and extremely smart boy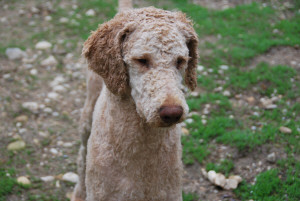 Bonnieview's Poken the Door
"Pokeroo"
He is an apricot Standard Poodle also
registered with CKC
Temperament is awesome and very "happy go lucky"
__________
Prior Poodle Puppies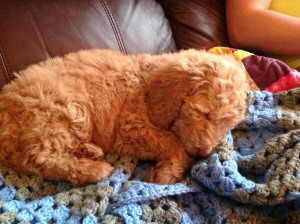 Amelie Gregoire's Rosie
(Penny's pup)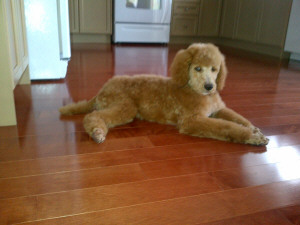 Viorel's Clifford
(Penny's puppy at 14 weeks)
He just came back from the groomer
and doesn't look too impressed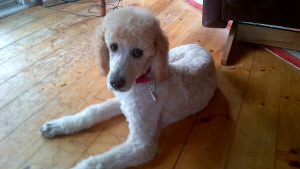 Rick and Cristi Reilly's Finley
(Priscilla's puppy)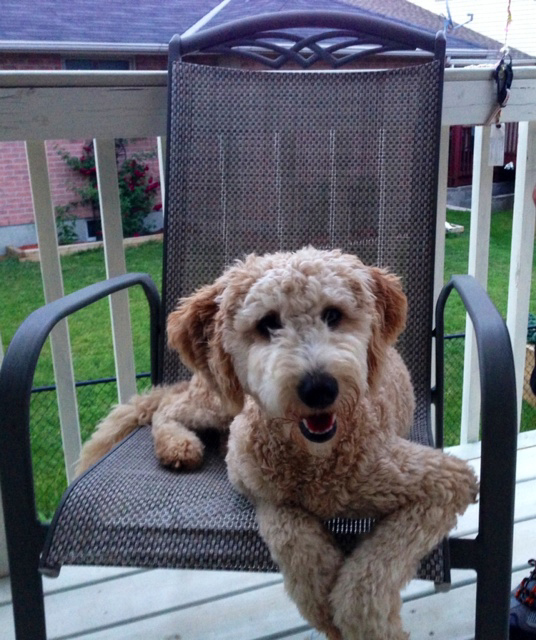 Greg Husband's Toby
(Priscilla's puppy)