Over the past few years, I have become interested in expanding my breeding to a toy breed. This was not an easy decision because of my devotion to the Golden Retriever. It had to be a very special breed with a few key characteristics.
1. Must be hardy
2. Must be non-shedding
3. Must be around 15 pounds
BUT MOST IMPORTANT
4. MUST love children
Do you know how hard it was to find a toy breed with all these characteristics? Near impossible.
But finally, after hours of research, I found such a breed. They're called Havanese. A small dog originally imported from Cuba. There is a lot to learn about this breed as with all other breeds, so this is definitely a learning curve for me.
I was able to purchase a male and 3 females and have quickly fallen in love with them.
The male's name is Fernando and he is quite the character. He has fit right in with my gang of Goldens and holds his own in rough-housing. I had to get use to his exuberance but it has become a very endearing trait. He is very loving and smart, although somewhat mischievous.
He loves life as all Havanese do.
My Falean, on the other hand, is very sweet . She loves people, other dogs and especially my cats. She also seems enamored with my big male Retriever, Bear. He tolerates her hanging off his ears and lip, and could easily make a quick snack of her if he wanted, which he doesn't.
I acquired two more females from a breeder in NFLD. Their names are Fiona (chocolate and white in color) and Felicity (silver). Fiona is extremely outgoing whereas Felicity is more reserved but very loving.
I am so pleased with how these two breeds (the Goldens and the Havanese) have complimented each other and now know that my decision to acquire the Havanese was a good one.
Puppies go home with following:
>first shots and health record
>two year written guarantee
>deworming
>microchip and CKC registration
>toy and blankie
>leash and collar
>brush
>picture of litter mates and Mom on request
>life time support
Below are a few pictures of these little characters.
I have had some litters and have thoroughly enjoyed them. Feedback has been very encouraging. It was really hard to let them go to their new homes.
__________________________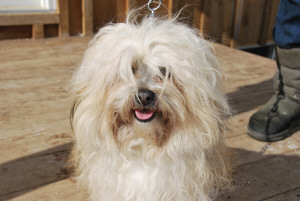 Fernando
This is my present stud
He is sable in color
A bit michevious at times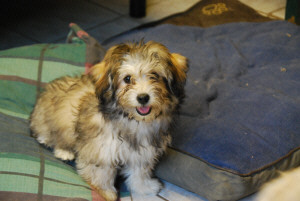 Falean
She is a sable as well
Very sweet disposition
Always waits for her cuddle in the morning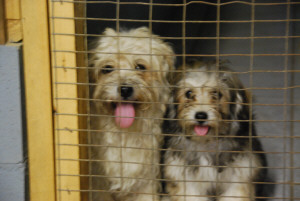 My little Jailbirds
(Pernando and Falean)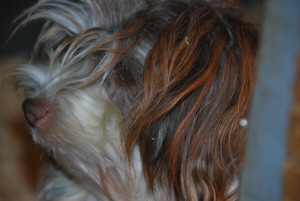 Here's a nice head shot
of Fiona
She is a chocolate Havanese and
is very outgoing
She loves everyone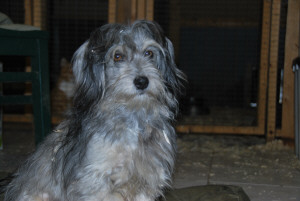 Here is a nice frontal view
of Felicity
She is Fiona's sister
She is a silver Havanese and is more reserved
than her sisiter but also very lovable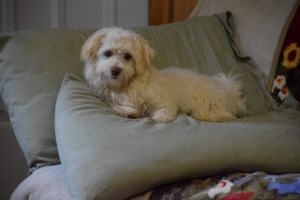 Meet one of the newest members of Bonnieview
that I have acquired
His name is Felix and he is a
gorgeous chocolate male who will be my other future studs
I took him to the bank with me and he made quite an impression on the staff
He is a real a sweetheart and an excellent camper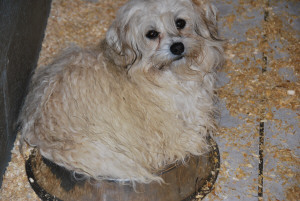 This is Little Frieda
or better known as
"Minnie Mouse"
She is my quietest Havanese but can play up a storm when she's in the mood
Loves to sleep in her dog dish
but only if it's empty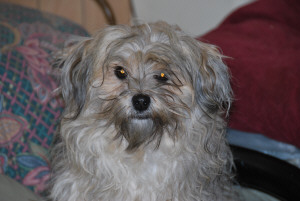 Meet Frightful Frankie
or better known as
"Little Chubbs"
She was bottle raised by myself as she was being pushed away by her 6 siblings
I'm afraid she got very spoiled
Not too keen on sharing her food or toys with
the other Havanese
but
very loving with any human
She is quite the character
I always refer to her as my "problem child"
You can just see the devilishness in her eyes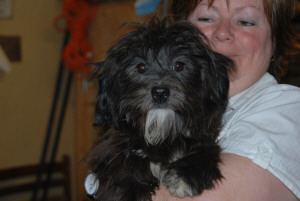 This is Franny
She is what is known as a Havana Brown
(her fur has brown highlights in the sun)
Her temperament is very quiet and reserved but
she does like to play hard at times
She absolutely adors all puppies
She and Felix have become best budds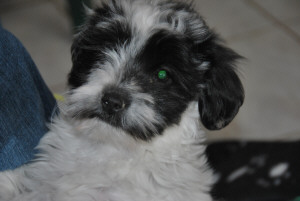 Meet Flower
She is my little "Neufy" and has settled in well
She loves
my other Havanese as well as any other puppy
that happen to be around
She is a bit shy with strangers
but affectionate once she warms up to you
Looking forward to raising her puppies
Well, that's my gang of Havanese so far
If I acquire more I will add their pictures