WELCOME TO MY WORLD!!
We bought our first Golden a number of years ago. January 18 of 1998 to be exact. We had just lost our white shepherd mix and had decided perhaps not to get another dog as retirement was just around the bend. However, having always wanted a Golden Retriever and my birthday quickly approaching, the thought of a Golden puppy quickly altered our thinking (well at least my thinking).
My birthday gift, Ben, was the most lovable, playful, rambunctious and goofy English Golden Retriever puppy you could ever have laid your eyes on. My husband and I fell totally in love with him, and thought that we had just lucked out on a particularly nice dog of this breed. We were so taken with him we decided, in our retirement, that we would breed Golden Retrievers. We quickly realized that all the English Goldens, that we subsequently acquired in the future, were like our Ben.
Thus began our journey.
We have been careful to breed the wonderful temperament and intelligence into our Golden's that was so evident in our Ben. Our goal is to have other families experience the Golden as we have.
Presently, I have four Goldens at various stages of maturity. They are not just breeding stock. They are indeed my pets.
My puppies go home highly socialized, as others and myself spend a great deal of time with them, in a home-like environment. My puppies also are frequented by visitors from adult day programs and children from local areas.
Bonnieview Kennels is a registered kennel and my Goldens are registered with the Canadian Kennel Club (CKC). Parents are cleared for genetic defects.
Puppies come with a two year written guarantee against genetic defects. They also will have been given their first needle. Starting at the age of 2 weeks, they are dewormed every 10 to 14 days until they go to their new homes. As well, they go home with health records and extensive verbal and written information on diet, house breaking, training, etc.
I also offer life-time support.
THERE IS NO SUCH THING AS A STUPID QUESTION IF IT IS A CONCERN TO YOU
I also include a toy & blankie that the litter mates have been playing with, a leash, collar and brush. As well, I include a picture of the new born litter mates with their mom upon request.
I hope you will take the time to drop in and see my facility and growing family.
Mount Forest is a quaint little community
located at the intersection of Hwy 6 and 89.
It is mid-way between Guelph and Owen Sound.
My kennel is located on Hwy 89, 4 km west of Mount Forest.
Call or email anytime to ask further questions or to set up a time for a visit.
By the way, Golden Retrievers get along fabulously with cats
as well as other dogs.

GOD BLESS!!
Lorraine Bain
Bonnieview Kennels
____________
POST SCRIPT:

On November 16, 2006, my husband and best friend went to be with the Lord after a rare and lengthy illness. Words cannot express how much I miss him. I have decided to carry on with the breeding of this wonderful dog and found that they have become a great comfort to me.
Lorraine Bain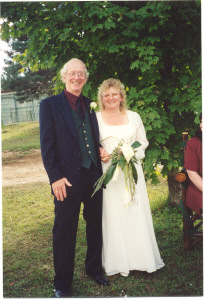 Don and Lorraine
Don's pups